SolidPC Q4
SolidPC Q4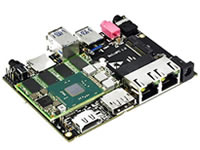 Category: Computers and Peripherals
Embedding Intel processors in your system is easier than ever with the SolidRun SolidPC carrier board. SolidRun's SolidPC Q4 single-board-computer (SBC) and Braswell-embedded Intel SOM is ready to deploy – or can serve as a reference for your own design. Either way, you'll reduce development costs and shorten time to market.
Offering a variety of communications interfaces, the SolidPC platform is an ideal solution for heavy-duty computing devices that connect to the IoT.
Feature Rich… and Right off the Shelf
With its powerful Intel Atom and Pentium processors (Codename Braswell), integral real-time clock, and support for 4K video, SolidRun's SolidPC Q4 supports a wide variety of powerful IoT systems. Leverage the power of Windows 10 IoT, and Embedded Linux to complete your application – in record time.
Development, without the Headaches
SolidRun's SolidPC Q4 carrier board was designed to serve as a reference for rapid-paced customization projects. We put all the intelligence in our system-in-a-module, allowing developers to design their own custom carrier boards – quickly, and at low cost. Customers receive full access to all the design documentation on our website.
Well Connected
The SolidPC Q4 carrier board offers a wide array of wireless and wireline connection interfaces: Ethernet – 2 x GbE, one interface with PoE header UART – 2 x UART null modem 3.3V headers WiFi/BT – M.2 2230 WiFi and Bluetooth connector Mic-In, Stereo-Out HDMI and DisplayPort And many more.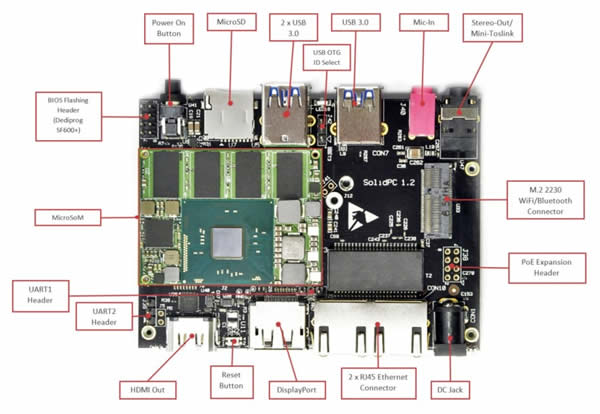 $312.40

| | | Distributor | SKU | Stock | MOQ | 1 | 10 | 50 | 100 | 1000 | 10000 | Purchase |
| --- | --- | --- | --- | --- | --- | --- | --- | --- | --- | --- | --- | --- |
| | | Digi-Key | SRI8000S00D04GE008Q00CE-ND | 5 | 1 | $312.40 | $299.20 | $292.60 | $283.80 | $281.60 | $281.60 | Buy |
Technical Specifications
| | |
| --- | --- |
| Lead Free Status | Yes |
| ROHS Compliance | Compliant |